Buying yarn, spinning supplies and Easter crafts in Prague
I just made a new friend, a knitter from Finland who's visiting Prague over the Easter weekend. She asked me three very good questions, so I will answer them here, in case anyone else is interested!
1. YARN SHOPS in PRAGUE
The yarn shops here are not quite what I expected, after buying yarn in the USA and Canada. There are only two "official yarn shops" downtown, and only one of them has Czech yarn (Marlen). The other has German yarn.
MARLEN: http://www.marlen.cz/
Karolíny Světlé 12 110 00 Praha - 224 236 728.
The store, which is small (like most Czech stores downtown) is packed full of fabric and yarn. It's near the Vltava River, in the Old Town on a small side street. The owners speak English and have a big selection of yarn made in their own factory, in the CR. Most of the yarn is a blend of wool/acrylic/cotton/mohair/angora, with interesting combinations of colors and textures mixed into one strand. The price is high: 120 kc per skein, about $7.00, but some skeins are quite large. You can't see the yarn very well, as it's on a wall behind the cash register; you may want to take it out into the sunlight to see what you're buying.
Filium: http://www.filium.cz/
Textilní galanterie Filium s.r.o.
OC Palladium, patro market
náměstí Republiky 1078/1
102 00 Praha 1
Tel.: 225 771 575
E-mail: palladium@filium.cz
This smallish store is on the ground floor of the glitzy Palladium shopping center in namesti Republiky. It has buttons, zippers, knitting needles, and four or five yarn displays.They don't speak English but you can point and buy. They sell Schoeller+Stahl yarn, which is made in Germany:
http://www.pleteni.eu/prize_alpha.htm
.
Having said there are only two yarn stores, may I now say that you can buy yarn at many stores not dedicated to yarn:
Kotva, the large department store on namesti Republiky, has a large yarn selection on one of the upper floors. They sell Schoeller+Stahl yarns, as well as embroidery thread, needles, ribbons, elastic, needlepoint supplies, and so on.
Galanteries are small "notions" stores. They are everywhere, as Czech women have traditionally bought from these tiny neighborhood stores. All of them sell buttons, zippers, and odds and ends of underwear, scarves, cheap jewelry, and so on. Many have yarn, but often the yarn is ACRYLIC!! I was once scolded for trying to buy wool yarn in my galanterie, as everyone knows acrylic is far superior--no moths, and machine washable. These stores are little time machines--I feel like I've gone back to the 1950's. My two favorites are downtown:
Galanterie Karolina on Spalena street, across from the large Tesco at narodni Trida tram/metro stop.
Galanterie Karolina on Trziste.

| | |
| --- | --- |
| This website is for both of them: | |
2. SPINNING SUPPLIES in PRAGUE
I know there's a shop in Prague 10 or thereabouts that sells spinning wheels, spindles, etc, but I can't remember the name. I'll ask my friend Annie and post it later.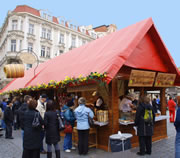 3. EASTER CRAFTS in PRAGUE
The Easter craft markets are gearing up, and soon you'll be buying decorated eggs, etc. The markets are all over Prague, especially in Staromestske namesti.
Prague Easter markets